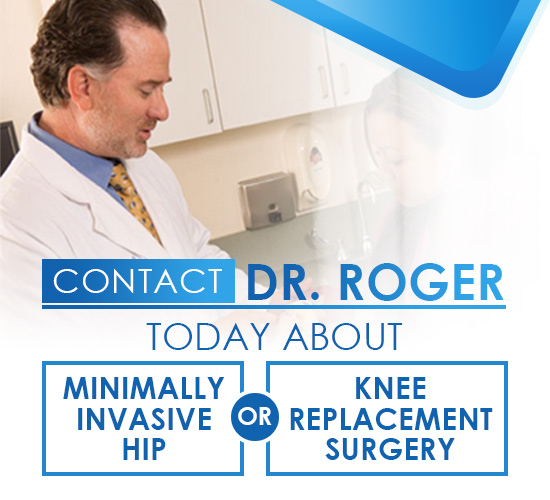 Office Location
Dr. Douglas J. Roger practices at the Institute of Clinical Orthopedics And Neuroscience (Desert Regional Medical Center) the office is located at 1180 N Indian Canyon Dr W201, Palm Springs, CA 92262.

Office Hours
Monday – Friday
8.00 AM – 4:00 PM
Saturday – CLOSED
Sunday – CLOSED

Appointments
Dr. Roger is currently accepting new patients. To make an appointment call today and speak to front desk specialist who will assist you. Please be sure to check that Dr. Roger accepts your specific insurance plan.
Give Us A Call
I am confident that I made the best decision selecting Dr. Roger to perform my total knee replacement surgery. The care prior, during, and after the procedure, by he and his staff, was exemplary. I am now 3 months post-op and pleased with my progress. I have begun to return to my active lifestyle, including swimming, walking, and biking. Thank you!
Wanda Bogin
Questions & Answers From Douglas J. Roger, Md
Q. What type of instruments are used in Minimally Invasive Surgery?
A. Dr. Roger is part of a team of surgeons and engineers who designed instruments for use in minimally invasive hip replacement surgery. These instruments originally were manufactured in Switzerland but are currently being manufactured in the United States. Dr. Roger continues to do research on surgical techniques and instruments which may have patent applications in the future. Dr. Roger uses the same type prosthetic which is used in standard total joint replacements.
Q. Does Dr. Roger do the anterior hip approach?
A. NO. In fact, Dr. Roger is a pioneer in the superior approach to knee and hip replacement surgeries. He is a leading authority on the Direct Superior Surgical Approach to the hip for minimally invasive hip replacement surgery, and the only orthopedic surgeon in the Coachella Valley currently performing the Direct Superior approach to the hip. Dr. Roger was the first orthopedic surgeon in the Coachella Valley to perform the Direct Superior approach to the hip and believes that it is the least invasive technique with the fastest recovery for hip replacement surgery.
Q. Is Minimally Invasive Joint Replacement Surgery right for me?
A. Dr. Roger's minimally invasive surgery can help alleviate the pain and discomfort of arthritis. There are several surgical options for patients suffering from arthritis of the hip or knee— a consultation with Dr. Roger would allow you to discuss your surgical options or more conservative, non-surgical approaches to pain management.
Contact Dr. Roger today about minimally invasive hip or knee replacement surgery.
Ortho Blog

Falls can have very serious consequences as we age. Staying independent as you age is a top priority. But did...