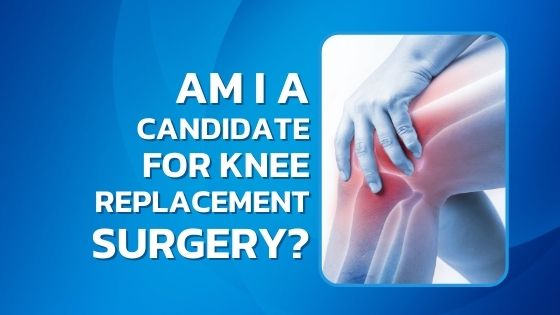 Do you find it hard to perform simple tasks around the house, such as walking up stairs or picking up laundry? Do you suffer from knee pain even when you're just sitting or lying down? Do you feel stiff and/or have limited mobility? Is your knee deformed?
If you answered yes to any of these questions, you may be dealing with the effects of arthritis in the knee – the largest joint in your body – or other conditions that are causing havoc in that area, making you a candidate for surgery.
Knee replacement removes a damaged knee joint and replaces it with an artificial joint. It's involved in most of your movements throughout the day.
The goal of knee replacement, also known as knee arthroplasty, is to restore a pain-free range of motion and function.
Arthroplasty is a surgical procedure to restore the function of a joint. A joint can be restored by resurfacing the bones. An artificial joint (called a prosthesis) may also be used.
Are There Other Treatment Options?
Doctors usually start with less invasive treatments to restore the knee's range of motion and reduce pain. Less invasive treatments include anti-inflammatory medicines, joint injections, and physical therapy. Less invasive surgeries, such as arthroscopy, may also be an option.
Be sure to ask your doctor about all your treatment options, including total or partial knee replacement, as well as minimally invasive procedures which offer the benefits of less pain and faster recovery times. Please note that patients whose symptoms are not related to the joint disease are too heavy to undergo surgery or be supported by an artificial joint, and who have poor skin coverage, a serious illness or terminal disease are usually not strong candidates for joint replacement surgery.
Common reasons for knee replacement include:
Knee pain or stiffness limits your daily activities.
Knee pain is present even at rest.
The knee joint is deformed.
X-rays show severe joint degeneration.
Other treatments like physical therapy, anti-inflammatory medications, joint injections, or less invasive surgeries haven't worked.
If you decide on total knee replacement, ask your surgeon if you are a good candidate for minimally invasive surgery. Minimally invasive knee replacement can involve a faster recovery and less pain than open surgery. If only part of your knee joint is damaged, find out if a partial knee replacement could work for you. In a partial knee replacement, your surgeon removes one side of the joint.
You may NOT be a good candidate if:
Your knee symptoms are not related to joint disease.
Your weight is too much for the artificial joint to support.
You have fragile skin or poor skin coverage over your knee.
You have a severe illness or infection.
You have a terminal disease.
What to Expect
An orthopedic surgeon performs either open knee replacement with a large (8- to 10-inch) incision or minimally invasive knee replacement with a smaller (4- to 6-inch) incision. You may have general or regional anesthesia, and you will need to stay in the hospital for several days. You may stay in a rehabilitation center before returning home. Once you are home, you will need help with household, work, and other daily activities.
Physical therapy is an essential part of recovery. Gradually, you'll regain knee function with less pain. Full recovery times range from 3 to 12 months.
If you are suffering from pain in the knee or any other joint, it's time to speak with your doctor. Together, and inclusive of your loved ones, you can discuss the best course of action to ensure your future quality of life.
For more information on how Dr. Roger can bring you immediate solutions in the treatment of a variety of orthopedic conditions, including hip replacement, knee replacement, joint replacement, or arthritis, contact the Institute of Clinical Orthodics and Neuroscience at Desert Regional Medical Center at 760.416.4511.